I am both a huge book and film lover. I spend my evenings torn between nestling between the pages of a book and cuddling up in front of an action packed blockbuster. That also means I'm always adding new books to my reading list and anticipating new film releases. Whether you always read the book first or you've just found out your latest screen love was a novel before, we can't help but judge the differences and love the similarities. I'm sure we've all seen and read a great stand alone or series that you can't get enough of in both formats, like Harry Potter for example. It doesn't matter if you watched the films as a child and got to the books later or waited at every midnight release since '97, and again in 2001 when the films started, you love them either way. But we've all seen some terrible film adaptations. Films that shouldn't have been made in the first places, castings that don't match your imagination, endings horrifically changed. Sometimes it just doesn't work out. Today I'm going to bring you three of my best and three of my worst book that were adapted into films!
Best Three Adaptations:
The Fault in Our Stars
I remember reading this book and falling completely in love so I was very excited to hear this was becoming a film, and it certainly did not disappoint. The cast were completely adorable, and whilst not completely as I imagined them (they never are, are they?) they still embodied each character completely. Isaac was a particular favourite of mine, and Nat Wolff did a great job of bringing him to life. John Green was heavily involved with every part of the process which meant that every tiny detail was accounted for, like the Indiana Pacers jersey Gus wears for its orange colour. The film also evokes the exact same reaction and emotions I felt whilst reading the book. I sobbed the whole way through the final half and binge-read it in one long night, unable to contain my heartache. This is often lost in a film as you're not trapped inside the head of a character, but instead watching as yourself. The film really captured what the book meant.
The Twilight Saga

Before you roll your eyes and stop reading here, bare with me and give me a chance to exlain! I'm totally not ashamed of my teenage phase where I was so in love with sparkly vampires and sassy werewolves, but I'm going to push that aside and look at the films from a critical angle. Many of the films, New Moon being the most prominent, have whole chunks of book prose and dialogue lifted off the page and put word for word in the film. You could read along as you were watching if you wanted, which makes for a very well-done adaptation. Twilight also push artistic license to the limit with the ending of Breaking Dawn Part 2, without ever actually changing the novel. The huge plot twist turns out to be Alice's premonition, meaning the film was so much more exciting but stayed true to the book, too. That's why it earns a spot on my Best Three Adaptations!
The Help
The Help is a story about racism and sisterhood in '60s America, where two very different sets of lives meet. This is a wonderful book and film alike. It has a very unique tone which is perfectly transferred from page to screen, including the specific language and dialect of each character. The narrative of the film follows the book, something which screen adaptations rarely seem to get right. It had humorous moments against those you just couldn't believe, which made the film even more loveable. This had a pretty good reception as a film and catapulted the actors into fame thereafter. And from an adaptation aspect, I would have to say the book translated very well to screen, and the production team involved kept the true spirit and message.
Worst Three Adaptations:
The Hobbit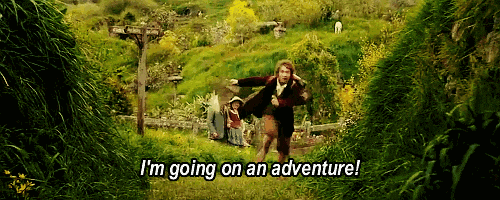 To this day I still remember reading The Hobbit on holiday, crawling into a tiny window bay to enjoy it. I fell in love with the familiar characters from my childhood and felt like I was on an adventure with Bilbo. I was excited to see this become a film as the Lord of the Rings trilogy was done well, apparently  (although I've only read The Fellowship of the Ring so can't speak for them all). I was absolutely gutted when I saw the first part, and even more devastated that they'd tried to drag out a good book over three films. They added new characters, brought back familiar ones that were never in the novel, and glossed over some of the most interesting details in favour of famous actors to draw in audiences. An Unexpected Journey started off so well, really capturing the spirit of the dwarves and Bilbo's unique attitude. Unfortunately they went downhill from there, earning themselves a spot on my list of worst films adapted from books.
My Sister's Keeper
Whilst this is a touching story, it unfortunately finds itself one of my Worst Three Adaptations. I watched this film when I was young and enjoyed it, so I jumped at the chance to read it when my mum introduced me to Jodi Picoult. This is a really great book, with a even better ending. In the film Kate peacefully passes away, meaning her nor Anna have to worry about the stress of transplants, operations, and legal ownership of body parts. Seems good, right? Wrong. The ending of the book is much more intense and is a real plot twist, making you want to gasp aloud at the writing. I won't spoil it for you if you haven't yet read it, but pick up the book and you'll see exactly what you mean. Changing the film ending completely changed the meaning of the book, which was both a disappointment and a shame, as Picoult's ending was poignant.
City of Bones
City of Bones is the first book in a fantasy series by Cassandra Clare. I discovered this as a teen and really loved the unique take on the typical vampire/werewolf/fairy world in the New York we know today, protected from demons by Shadowhunters. Of course, that meant I was excited for the film that was released in 2013. Unfortunately, it didn't work out as I was hoping. I can't quite put my finger on exactly what was wrong with the adaptation, but it was generally cheesy and the CGI was badly done. This resulted in the film being badly received, with very harsh critics slamming it. Thankfully Netflix has taken The Mortal Instruments book series and revamped it into their very own TV series adaptation!
What films ruined your favourite book? Or were there any films you loved better than their novel original? I hope you enjoyed reading my list of best and worst book to big screen adaptations. Comment your thoughts below and I'll add your books and films to my list, or scrutinise my own choices.
Happy reading and watching!