As a graduation present I got the Beauty and the Beast live action DVD which came with the book of the film. As you probably all know Disney is my favourite thing ever and I've been really loving retellings lately so I was ready to give this a go. I knew it would be an easy read which was lucky with all the hectic adult responsibilities I've had since finishing university. I won't bother explaining the plot as I'm sure you all know the story very well! So I'm going to dive straight in and give you a little review of Beauty and the Beast: Book of the Film.
When I first started reading it really struck me that I felt like I was reading a narration of the film. Of course this was pretty explanatory from the title so it was expected, but the book is literally word for word. As I read I had a really clear image in my head, so vivid I could have been watching the film. I actually didn't mind this and found it quite entertaining. The description was also pretty heavy which made the book really picturesque. This made it a simple read which I didn't have to concentrate on, so it's perfect if you have a busy period but want to keep up your reading.
What I loved most about the Book of the Film was the way they approached the songs in the film. Beauty and the Beast have so many great songs and I knew the book wouldn't be able to ignore them, considering they often advance the plot or give us extra information. Each musical number was written as if the character's were actually watching the song happen and reacting to it. Belle knew the villagers were gossiping about her and this was portrayed through the third person narrative. Instead of a song, it was written more as an observation of dialogue or interaction. This meant you didn't lose Lumiere's extravagant performance, but you also got a better insight into how Gaston was feeling when the tavern sang about him or how  Belle and the Beast realised there was something there that wasn't there before. I actually really liked this touch.. I actually really liked this touch.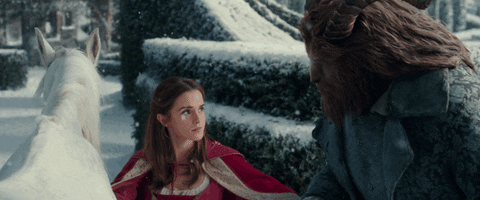 This book continued to please me with how bookish Belle was. Of course she is the most read Disney princess and books have always shaped the film, both cartoon and live action, but this came across much more in this book. I loved the live action film for physically referencing books, especially Shakespeare who holds a special place in my heart. I was able to notice these cultural and bookish references much more throughout the book. I found it even easier to relate to Belle because of this. Both her and the Beast appeared smart and well read but in a loveable, humble way.
Beauty and the Beast: Book of the Film gave a lovely quality to our favourite characters as they told a popular story. This is only a short review for a short and simple book, but I have to say I enjoyed it. It's not a new story and is scene for scene for its film counterpart, but that made it a light and quick read which was easy to whizz through. If you like Disney this is worth reading for a bit of fun. I also imagine this would be really fun to read to young children, or for a first time book for them to read alone!
Happy reading and may all your libraries be as big as the one the Beast gives to Belle!