Today I'm bringing you my monthly round up a little earlier than usual to allow for tomorrow's Top 5 Tuesday. So today it's time for October's My Monthly Me! This will probably be a short post focused more on goals for next month rather than achievements from this month. Adult life got very much in the way of blogging for me during October – I seriously underestimated how hard it would be to maintain my blog, a job, and everything else I do! I only managed to get through one and a half books but they were all novels I had to review so I'm still happy with my progress.
Books Read:
I was sent this book to review by Oftomes Publishing. I totally adored this book and would really recommend it to everyone! It was almost like an x-men style home but for witches. Read my review here if you'd like.
The Emerald Circus – Jane Yolen
I didn't get completely through this collection of short stories but I'm slowly working on it. Turns out they're not as easy to speed through as a novel, but they're still fun. I'm aiming to finish this ASAP as I'm reviewing this courtesy of Netgally. Keep an eye out for my review.
November TBR:
Blackheath by Gabriella Lepore – This is another Oftomes Publishing book I will be sent as one of their reviewers
The Emerald Circus by Jane Yolen – I'm determined to finish this book before its publishing date

One of Us is Lying by Karen M. McManus – This has been on my TBR for months and has been pushed to the back because of reviewer commitments. I can't wait to finally get round to this!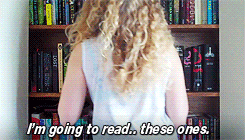 So November is set to be another busy month for me but I'm more determined than ever to start balancing my life and really get back into blogging! I'm aiming to blog at least twice a month and bring you more varied content, adding a few fun things into the bookish love. I've got a new notebook (which you can see below). It's so adorable and of course Disney themed, so I really can't wait to get planning more blog posts. It's also my birthday next month which is really exciting, yay! Here's to a spooktacular October and hopefully an awesome November!
Happy reading!