It's Halloween and Top 5 Tuesday, so this day honestly couldn't get any better! I've done this for a while now but for those of you who haven't seen these posts before, Top 5 Tuesday is a weekly meme hosted by Shanah @ Bionic Book Worm. This week's topic is Creepy Characters That Gave Me The Chills, which is perfect for Halloween! I don't really read any spooky or scary books but I have come across a few creepy characters that gave me chills whilst reading. I love to hate these type of characters, so here's a few I've decided to highlight today.
The Phantom – RoseBlood
We are all probably somewhat aware of The Phantom but RoseBlood really ups the creepy in this story. The Phantom has waited years, hiding underneath a school and tracking down one girl, all for his love of Christine. That kind of creepy can also give you the chills. His supernatural powers and secret life definitely earn him a spot on my list today.
Peter Pettigrew – Harry Potter Series
You may be wondering why Peter Pettigrew managed to sneak his way onto my list, but I've always thought he was kind of creepy. Anyone who has a devotion to evil deep enough to betray your best friend is slightly creepy. Plus, I always remembered the film version as a child which stuck with me whilst reading. His rat-like qualities is enough to give everyone the chills.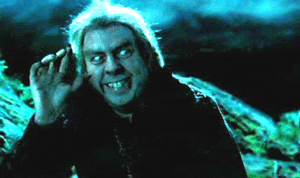 Hunters – The Witches of the Glass Castle
This group of characters gave me the chills the moment they were mentioned in the book. Dark and mysterious yet terrifying, it is clear why all the other witches steer clear of the Hunters. They're born as trained weapons, can control you with a single drop of blood and have an animalistic quality about them. Creepy, right?
Aro – The Twilight Saga
Aro's giddy, almost child-like obsession with collecting vampires with unique and valuable powers is enough to give anyone the chills. He has this all-knowing, all-seeing vibe as well which is really creepy. I've always felt that with Aro and the Volturi. This character also gets a really great , and of course creepy, screen adaptation which will stay with me for life!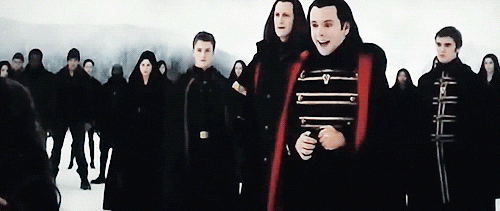 Berserkers – Trapped in Silver
Beserkers are a terrifying group of vampires who blend into society to pick their next target before taunting them in a brutal hunt. These guys are like animals and have a cannibalistic feel to them. They seriously creeped me out when I first read about them. I wouldn't want to get stuck as their prey as they'd definitely give me the chills.
These may not be the most terrifying characters ever, but they're certainly creepy enough to give me the chills. Each single character, or group in some cases, has a quality which doesn't sit well with me. They're definitely some of my favourite characters to read though! They make for really interesting moment and sometimes they aren't always as they first seem, defying their creepy stereotype. What characters are creepy enough to give you the chills?
Happy spooktacular reading!