Over the weekend I made some gorgeous unicorn inspired cupcakes that were totally tasty, too! I had so much fun making them and was so proud with how good they looked and tasted that I just had to share them with you all. This recipe is gluten free and, as someone who was an avid baker, I know how hard it is to find a good gluten free recipe, let alone be able to recreate it yourself. Don't let this put you off though, you could easily swap for normal flour and enjoy these magical cupcakes!
Ingredients
150g butter
150g caster sugar
2 eggs
130g gluten free self raising flour (or alternative)
Dash of vanilla flavouring (optional)
Splash of milk (roughly 2-3 spoonfuls)
Method
Pre-heat your oven to gas mark 5/
Cream together the butter and sugar in a bowl
Mix in the eggs
Slowly add the flour (be careful, this can spray everywhere!)
Add vanilla flavouring if you're using it.
Add a splash of milk if necessary. Your cake batter should be thick and smooth but still fall off the spoon.
Bake for 15-17 minutes or until golden brown and spongy.
And that's it – it really is that simple! I used to love baking until I had to go gluten free but with this recipe I hope I can always bake the perfect cupcakes. As a little baking tip, I find that gluten free cupcakes take longer than standard, flour filled bakes so always check your bake and don't be afraid to leave it in for longer than the stated time. Now I know what you're thinking, this is just a cake recipe so where do the unicorns come in? Time for some decorating!
Decoration
140g butter
280g icing sugar
2 spoons of milk
Blue food colouring (or swap for your favourite colour!)
I have no idea how anyone manages to make enough butter cream to decorate just 12 cupcakes as I could probably cover myself by the time I've made a batch! This is the amount given on BBC Food but I always like to guess mine (which is probably why it goes so wrong!). Once you've got a lovely, creamy butter add some drops of food colouring to the bowl. Don't mix completely but instead use a skewer or something similar to create a rippled effect. Once the mixture is spooned into the piping bag and piped onto the cupcakes it will give a gorgeous ombre effect, just like a unicorns mane!
To add magical touches to my unicorn inspired cupcakes I used pink, bubbly cases which I bought from Flying Tiger. They came with decoration sticks but you could use sweets, sprinkles or anything you like!
Baking used to be a huge passion of mine and as I managed to perfect my gluten free cupcakes I just had to share them with you guys! I hope you enjoyed reading something different on my blog today and maybe you'll be inspired to bake some magical delights to enjoy for yourselves.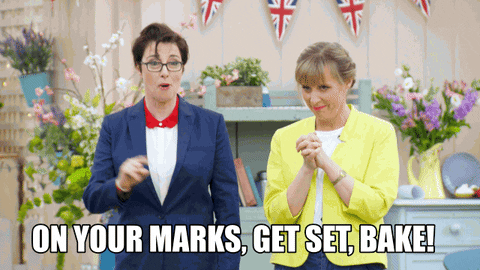 Happy reading!