I'm always a huge sucker for a Disney film so I was really excited to watch Coco. I didn't know a huge amount about the film before I went to the cinema (I like to watch an initial trailer and then avoid the rest so not too much is spoilt!) so I was really hoping Pixar would blow me away. Coco is about young Miguel, an aspiring musician whose family has an ancestral ban on music. In order to reach his dreams he defies his family and finds himself in the Land of the Dead. Once again, it seems Disney Pixar has not disappointed.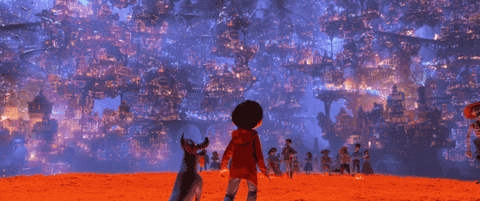 Coco focuses on Día de Muertos, a Mexican celebration where families gather to honour and remember the dead. It was really refreshing to see a Disney film focus on a different culture and, although I'm no expert on Mexican culture, it seemed like a realistic portrayal. Día de Muertos was the perfect setting for this story, enabling Pixar to bring traditions to life and providing the film with a strong message. Coco therefore revolved around family, playing with the ideas of respect, knowing who you are, and being who you want to be. I loved Miguel as a protagonist and found him to be so full of life and determination. When his family tell him he's never allowed to play music he doesn't let that stop him from achieving his dreams, even if he does end up on the other side of life! There were so many other wonderful characters too, each one so unique. Pixar created a whole host of interesting characters who each had their own motivations and emotions. I'm not going to include any spoilers but I will say that as Miguel journeys through the Land of the Dead to discover the truth of his past and to return to life, so many important topics were discussed and my heartstrings were pulled at so ferociously they might have snapped. Whilst I thought this was a more mature Disney film, suited to older kids rather than tiny ones, there were so man delicate topics approached in such a beautiful, meaningful way.
Another wonderful aspect of the film was the use of music so drive the plot, rather than for background purposes. Coco included the use of music and performance without being a musical as such. Music literally drove this film being a huge focus of the plot alongside Día de Muertos, intertwining the two. For me, it was almost like music paralleled life and your mark you leave on the world. Everyone had their own song, whether they knew it or not. Important moments were marked with music and the words told more than anyone could say themselves. Music is always paired with memories, so what was more perfected than a music orientated film that was set on Día de Muertos?
Coco is certainly the most striking of every Disney and Pixar film. The animation is incredible and on a whole other level. The film opens with a gorgeous sequence told in bunting, similar to the montages we are familiar with in Up and other films but favouring a method of storytelling that doesn't even involve people. Once the film opens up to the streets of Mexico, the orange marigolds that surround every grave and shrine, and the Land of the Dead, the screen literally glows. The colours were sharper and clearer than I'd ever seen before – it is evident that Pixar are pushing animations boundaries and they're winning. I was in awe at the impeccable detail, from the different ways clothes sat on a skeleton compared to a human, how lights glowed, and even the tiny hairs on the chin of an old lady were noticeable. I still remember the day a still of Coco was released a few years ago and now that I've seen it on the screen it is clear that all the years of hard work paid off. A lot of my favourite films are animated but I'm not sure I've ever seen a film quite as visually stunning as Coco.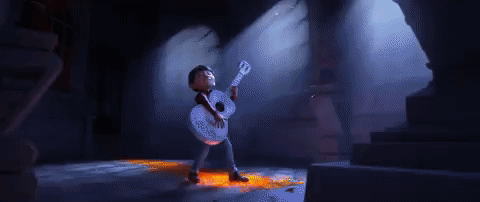 Coco had everything in it that a good Disney film should have. Groundbreaking animation, endearing characters, a loveable sidekick, and catchy music really make this film. Pixar are not only pushing animation boundaries, they've once again done it with a story that can make the most resilient of adults cry. This was a gorgeous film that contained such a poignant message, really hitting home for me and many others. I loved the use of Día de Muertos and thought it was the perfect setting for this film. I'd highly recommend that everyone sees Coco, especially adults!
Happy watching!